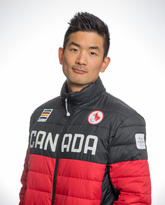 Research
Research interests
ACL reconstructions lead to a high rate of early onset of osteoarthritis, and athletes with ACL reconstructions have a higher rate of re-injury. Knee valgus under high force demand is a major injury mechanism for ACL injuries. My research aims to improve the current return to sport protocol of winter athletes with ACL reconstructions by quantifying knee valgus moment, and to describe the effects of suffering an ACL injury has on the movement pattern of the lower limbs.
Career Interests: I want to continue my career as a strength and conditioning coach at CSI Calgary. After the completion of my Msc, I want to conduct other sport biomechanics studies to further the knowledge in elite sports from a injury prevention and performance optimization front.
Biography
Academic History: I graduated with a BSc. Kinesiology from the University of Alberta in 2014. I have been working as a strength and conditioning coach with the Canadian Sport Institute of Calgary since then. I am currently working as the lead strength and conditioning coach for the national para hockey team and the Olympic Oval short track speed skating program.