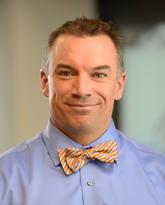 Reed Ferber, PhD
Professor
Injury prevention
Research
Research interests
Dr. Ferber is the director of the Running Injury Clinic. The goal of the clinic is to educate and develop injury prevention and rehabilitation programs for runners and walkers of all ages through world-class research and clinical practice. The Clinic serves as a public facility for the clinical assessment of musculoskeletal injuries for walkers and runners as well as a dynamic research laboratory.
Research projects include the pathomechanics and optimal treatment of patellofemoral pain syndrome in runners, validation of clinical exams and optimization of treatment for non-specific low back pain, pathomechanics of iliotibial band syndrome, the relationship between foot structure and foot biomechanics, and optimal treatment protocols for knee osteoarthritis using real-time feedback.
Biography
Dr. Reed Ferber is a professor in the Faculties of Kinesiology and Nursing at the University of Calgary and the founder and director of the Running Injury Clinic. He is internationally recognized as a leading expert in biomechanics research using wearable technology for the prevention and treatment of injuries. Currently, he leads a team of UCalgary researchers in the NSERC Wearable Technology Research and Collaboration (We-TRAC) CREATE Training Program that seeks to train the next generation of wearable technology experts.