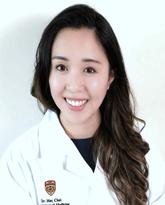 May Choi, M.D.
Assistant Professor
Autoimmune and inflammatory diseases
Research
Research Interests
My primary focus of interest is in the investigation of novel biomarkers and autoantibodies, and their role in aiding the accurate and efficient identification of early-onset systemic lupus erythematosus (SLE) and related systemic autoimmune rheumatic diseases.
My research interest in biomarkers for autoimmune diseases aligns with McCaig Institute's Strategy 1.1. Use biomarkers, to steer the development of a precision medicine approach to the treatment of arthritis patients for better outcomes and the efficient use of health-care systems and resources. In collaboration with the MitogenDx lab, Harvard and MIT, we are examining novel biomarkers to better diagnosis and prognostic patients with SLE and other autoimmune diseases. I am also working closely with Dr. Ann Clarke in building the local SLE cohort to create a database that is being used for current and future biomarker research. In alignment with McCaig Institute Education goals, I will be heavily involved in mentoring trainees at all levels, from undergrad to postgrad.